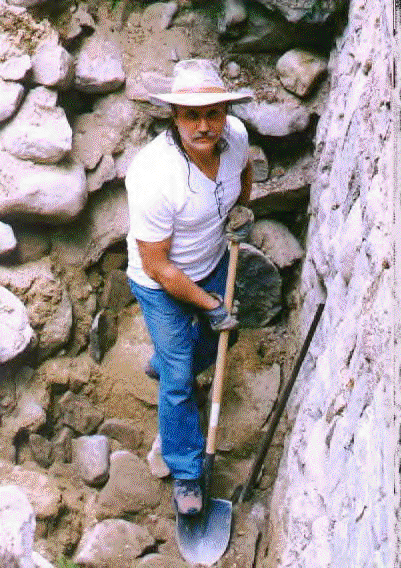 This special issue of Landscaping Magazine was prepared to acquaint you with the building of rock walls, a specialty of Mark Pilipski (aka "The Rockman").
Meet Mark Pilipski
the "Rockman"!
Learn all about having a stone wall built or building a stone wall yourself.

BARNS ARE NOBLE
Box 588
Westbrookville, NY 12785

Metro phone (973)-614-9101






Scientist becomes "Rock Man" and offers these suggestions for "Do-It-Yourself-ers."
This is not about some new genetic experiment. It is a story about one man's pursuit of his passion. Mark Pilipski, working as a clinical scientist and manager of hospital departments has become a stone mason, the "Rock Man." This may seem like an unlikely transformation but it makes perfect sense. Always artistic (his work has been displayed in museums in Newark, NJ and Paterson, NJ as well as many other showings including the Port Authority Bus Terminal in NYC.) Pilipski worked during the week in hospitals and medical centers. His weekends were spent rebuilding an old barn and repairing stone walls on his property in Westbrookville, NY. He found he had a passion for stonework. The beauty of his work attracted many compliments from friends and strangers alike. His work attracted many admirers. He has recently shifted careers to do stonework on a full time basis. The name of his company is Barns are Noble (the name was suggested by his youngest son.) Watching him work with stones and large timber structures of all kinds inspires people to consider stone as an ideal material for their home, garden, fireplace, patio, etc.
Pilipski notes that most of the ancient and modern wonders of the world are made of stone; the Great wall of China, the Great Pyramid of Giza, the Sphinx, the Taj Mahal, the Hanging Gardens of Babylon, the Temple of Artemis, the Lighthouse of Alexandria, the Mausoleum at Halicanassus, the Inca city of Macchu Picchu, Stonehenge, the Leaning Tower of Pisa, to name a few. In fact a visit to one of these, the Inca city of Macchu Picchu in Peru began his passion for stonework. "I marveled at the precision placement of these huge stones. The craftsmen's work and pride shown through even in the smallest stepping stone within the entire city of stone."
Stone Stanchions guard the back entrance to the Black Feather Retreat Artists' and Writers' Colony in Westbrookville, NY. These stones are tightly stacked without mortar to form a freestanding gate. This design allows the gate to invite strollers onto the bordered land yet remind them that they are entering a substantial estate.
Each stone is nestled tightly against its neighbors. Dry stacking does not require mortar or cement to hold these stones in place. The design and placement of the stones holds the entire structure together. Each gathering or cluster of stones must be placed next to its "mate" to assure a solid form.
Mark offers the following simple suggestions to help make your stone project enjoyable and rewarding:
1. Never attempt to lift a stone that is too heavy for you to handle easily.

2. Use the proper tools (Safety goggles, gloves, hammers, pry bars, etc. permit you to move and shape even the largest stones.)

3. Before you buy or gather stone and start working, draw a picture of what you want, you may find problems and solutions you didn't expect.

4. Lay stones down, don't stand them up

5. Always place the big stones on the bottom, the smaller stones on top

6. Stone walls begin below the ground, not on top of the ground.

7. If you want a flat area choose flat stones

8. Always lay one stone over two or more stones

9. Each stone must rest solidly on the stones beneath it

10. Maintain level courses

11. Stones move slowly. Working with stone takes time. Even a small project is not done quickly.

12. Never be afraid to ask for help. Every great project has been the result of people working together.

13. Despite its solidity, stone moves and settles over the years. Do not construct big stone structures tightly against buildings.

14. Always allow water to run through even the smallest retaining wall.

15. Do not use mortar or cement to hold stones in place. Mortar should be used to hold stones together. They must rest in place by themselves.
Recent examples of the "Rockman's" work can be seen at the Culver Randel Millhouse - Randellville Mill in Florida, NY (listed in the New York State and National Register of Historic Places) incorporating stone steps, an enclosed stone walled garden and a repair to a collapsed wall on Quaker Creek. Currently, I am constructing an arched stone bridge across Quaker Creek to connect the Millhouse and the Mill. Plans for this site include the installation of a traditional oak waterwheel for the Mill. Some of my stonework is also seen at the Black Feather Retreat, Artists' and Writers' Colony in Westbrookville, NY. A large structural restoration is in progress along the Delaware River at the site of the Old Lock #62 D&H Canal House.
To build something beautiful that will last several lifetimes requires knowledge, talent, experience and love for the task. Using Old World traditional as well as modern techniques Mark Pilipski (the Rock Man) will help you create the architectural setting you seek. My rates are competitive and no job is too big or too small for consideration. Please consider using my talents for your projects or recommending my work to your clients.

---
BARNS ARE NOBLE
Building Renovation and Restoration
Historic Oak Timber and Stone Wall
Barn Raising and Razing
Box 588, Westbrookville, NY 12785 Call: (973)-614-9101
Back to the BARNS are NOBLE homepage (start here)
---