Estampa Desnuda
de Monde
2 c The two centario stamp comes from the small South American State (Estaza) of Lactuma (Officially, still a royal colony of the long non-existent Kingdom of Poland.)
3 c For three companiones one may purchase this stamp on the Mediterranean isle of Erotique, a sister island of Lesbos the home of the poet Sappho.
10 B
Basking Island, the easternmost of the Merchant Islands, still retains some of the flavor of the language of its Dutch ancestry.

It has no permanent population yet issues stamps for collectors and because of its latitude provides more sunlight per year than any other place on earth.

The five böll stamp bears an image of a basking subtropical iguana and the one böll stamp is an image of a Chilean penguin.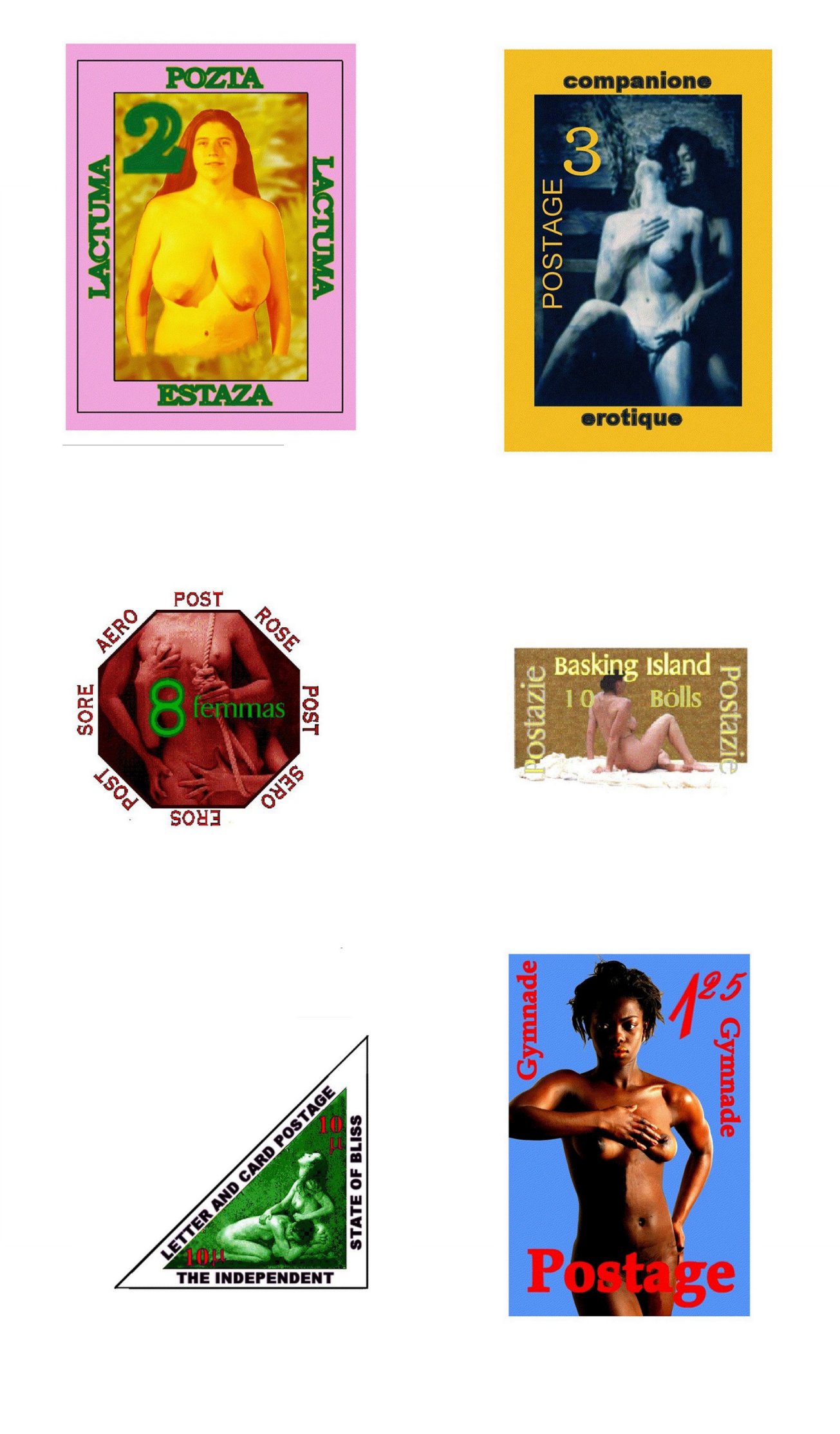 8 f The octagonal, eight femmas, aeropost stamp is issued by the Dominanci et submisso. This monastery, much like its larger cousin, the Vatican, enjoys the legal status of an independent religious state in the alpine region straddling the borders of modern Italy and Switzerland. An antique octagonal hot air balloon (circa 1900) is the only aircraft that lifts mail from here to its neighboring posts.
10 m The Independent State of Bliss (pronounced "Blessed") was founded in 1643, as "The Blessed Land" and received a Sovereign Chartes in modern times during the Hippie Movement in 1964. The ten mu stamp is triangular. Keeping with their idealistic origins the population has adopted the song "All You Need is Love" as their National Anthem.
The1.25 "Jimmy" from Gymnade is the first and only postage stamp issued by a stateless union of GLBT communities. "With pride the hand is held over the heart, as greeting and declaration."
Stamp Nudes of the World
Collected and created by Mark Philip Stone